Foodforce2 team has released a stable release of
FoodForce2 activity
, and has refreshed its website at
www.foodforce2.com
.  (Aside from the delicious but lapsed
Rollca
Rollcats
, this makes it the first Sugar activity to develop its own site!)  FF2 saw a great response this summer, with close to 150 thousand
downloads
over 6 months after the Beta version was
released
in May. This game has been developed to make the children learn to apply their education to build a self-sustainable village and learn to trade and strategize in a fun way. [caption id="attachment_1015" align="aligncenter" width="450" caption="You are given responsibility of the village during an important wedding."]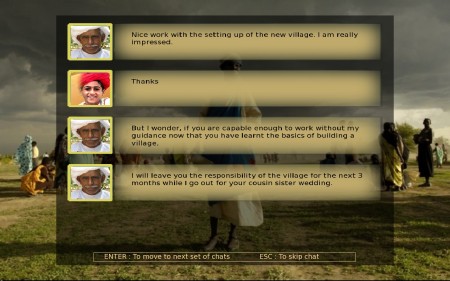 [/caption]
The team welcomes your feedback and would like to encourage you to give the game a try.
The new release has lots of improvements, with an improved story and interface, better save/resume, customizable building placement, and the fantastic panoramic photographs from its earlier versions.  Details after the jump.
Some of the improvements in this release:
Improved Story Board:

The story board features a fast paced storyline and snappier dialogues and is a lot more engaging for the player.

Ability to place buildings:

Now the player can place all the buildings according to his/her own likes, this gives the game a more personalized kind of feel. (Thanks to Grivan!!)

Graphic User Interface:

The GUI has been redesigned completely, pleasing to the eye! In sync with the feel and look of Sugar Environment. (Courtesy: Rupi)

Save and Resume:

The player can save the current state of the game and resume from the saved state anytime later.
Apart from the obvious additions, work has been done on:
Improved performance; bug testing and reporting done by a game testing company Chakkilam InfoTech Limited.
The new version now supports Apple Macintosh systems (OS X) , the XO 1.5 and SoaS.
Thanks to everyone who has contributed so far!
1